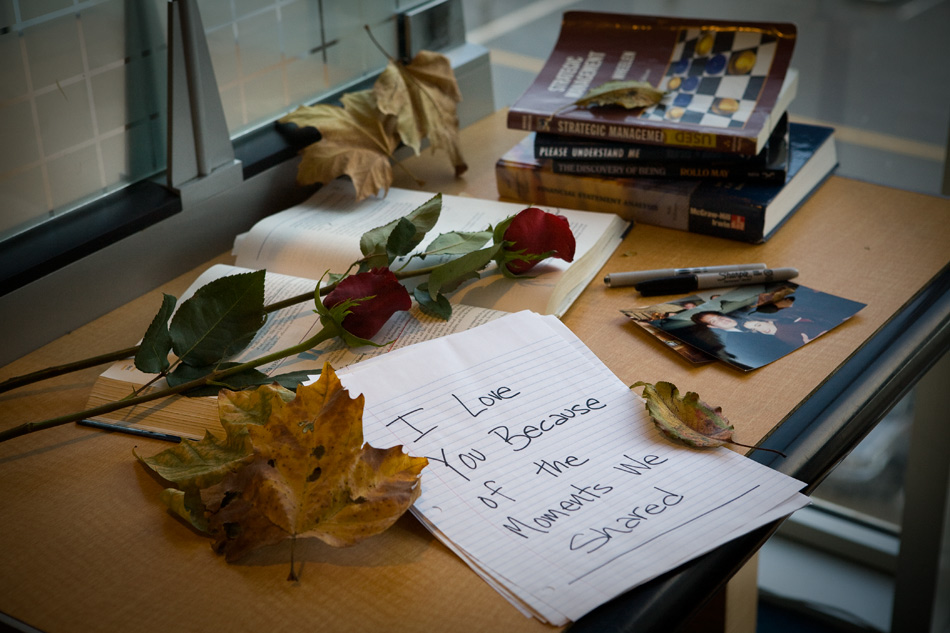 Tom wanted to create an image about Sarah, a woman he dated in college many years ago. They had a class together and when asked to pair up for a project Tom thought to himself, "Which person here will help me get the best grade?" It didn't hurt that Tom found her the most attractive woman in the room! Soon they were good friends, and then one afternoon, they became more than friends.
Their relationship only lasted a few months. Tom suspects the fact that they didn't share the same faith had something to do with why it ended abruptly, but he is still unsure. Over a half-year later, they made plans to meet on top of a mountain in Interlaken, Switzerland but Tom was wary of being burned again and decided not to make the trip. Regardless, there has always been something profound in their connection. It was clear listening to him talk that he still has a great respect for her drive and her intellect. From my perspective, their story sounds like one with many chapters, and they're still in the process of writing the final ones — even if it is as soul mates with separate lives. Now, many years later, they have re-opened communication through Facebook and are catching up.
This image resurrects the times in the library they shared, studying and enjoying getting to know each other. They were young and romantic, and the autumn days were rainy and wet.
One of the interesting things about this shoot was watching Tom, a grown man, get a little shy and reserved about expressing his love. I know that a lot of people have similar reactions. It's perceived as a vulnerable, soft thing to show.   It's not easy for many people, particularly men, to show that side. Personally, I know that when I started this project I was loath to tell certain people about what I was up to and why I was doing it. But the more I shoot, the more I write, and the more I dialogue the easier it is to be comfortable expressing this part of me. I am happy that Tom decided to create an image with me because though it I got to know him better. In my eyes, he became more vulnerable, more loving and more real. In other words: more human.
Click here to see a portrait of Tom.